Wie-San (pronounced Way-San), is a multi-disciplinary graphic designer currently working in-house at a global organisation. He demonstrates dedication and commitment to, "get things done" to a high standard for clients, working with copywriters, product managers, regional marketers and executives in all time zones.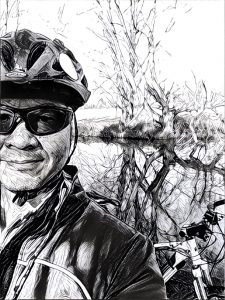 He's an experienced designer who has completed hundreds of global marketing projects, whether it's print or online based design solutions to promote marketing initiatives, or giving art direction.
He is now looking for a full or part-time opportunity working close to Berkshire, UK.
Outside of work, Wie-San enjoys riding with Cycling UK Reading, as well as photographing nature and chilling out at yoga sessions.
Key skills in many other design areas including:
Multimedia: Animation / motion graphics, digital banners, email templates, audio and video editing, videography
Graphic design: Print advertising, artworking, direct mail, exhibition displays/banner stand design, PowerPoint
Marketing: Branding / logos, promotional product sourcing, email marketing, digital asset management (DAM)
————–
More information: email sandesigns@gmail.com or fill out the form.